---

Hominisation process
How humans evolved into homo sapiens (well, some of us just got halfway)
By 1ºB Students  
---

Thanks to Macarena, Carolina, Manuel, Blanca... and all the "socks" that posed and danced for us!!
And SPECIAL THANKS to both Álvaros, Luz, Dani and Pablo, for being among us. 
---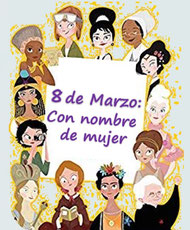 Our tribute to all women who were artists, scientists, writers, musicians, entrepreneurs, visionary... the ones who shared their wisdom, knowldedge, evasion and much more. 
And, above all, the ones who were ignored because of their
feminine condition throughout history.
Because of all that, last year we decided to work with students on the life of those relevant women that have been exceptional in society throughout history. All these projects were later included in a book titled "55 Women that Changed the World", which we have presented this week.
The PDF version has been shared with members of the school community.
As the book says, the idea is to
"...value the role of women throughout history in the different activities involved in society, with a sample of the ones who were outstanding in their jobs though frequently silenced; they were a role for personal development, ahead of their time, revolutionary people...
Women, mothers, sisters, friends...
Let's hear their voices, now and then."
55 Women that changed the world
55 Mujeres que cambiaron el mundo.pdf
Documento Adobe Acrobat
13.9 MB
Women who left their mark on Science world:
We also celebrated showing their pictures and names on our T-shirts:
Thanks to Luis Carrasquilla for his review, book and exhibition, to Paco García B. for his coordination and video and to all workmates who posed for our PhotoCall and introduced us to their T-shirts' women.
---
February 28th 2021
Our SENs students have made a very Andalusian mural to celebrate Andalusia Day. They made our corridor look bright and they reminded us of spring!!
---

February 4th 2021
       Peace Day Photocall
The School Day of Non-violence and Peace, on 30th January, was declared for the first time in 1964. 
Its main aim is to educate for tolerance, solidarity, harmony, respect to Human Rights, non-violence and peace.
The message carried this day is:
"Universal Love, Non-violence and Peace".
And to achieve peace we have to avoid violence and commit ourselves to peaceful ways in order to solve everyday conflicts.
https://youtu.be/ppaGYh03WLw
https://youtu.be/uzvRhafqa-I
In collaboration with Esperanza, Margarita, Jose Mª, Lourdes and Mª Paz
---
December 24th 2020
2ºA and 2ºF sent us some fabulous customised Christmas Cards!
And we want to share them with you all. Thanks a lot, guys!
Enjoy your holidays (but stay safe, OK?)
---
December 24th 2020
2º A and 2º B
prepared their French Christmas:
Christmas cards, door hangers...
And we love them! / Ce sont adorables!! 
---
December 24th 2020
Climographs  (by  1ºB students)
Could you tell us the temperature in Auckland or Singapur?
¿...?