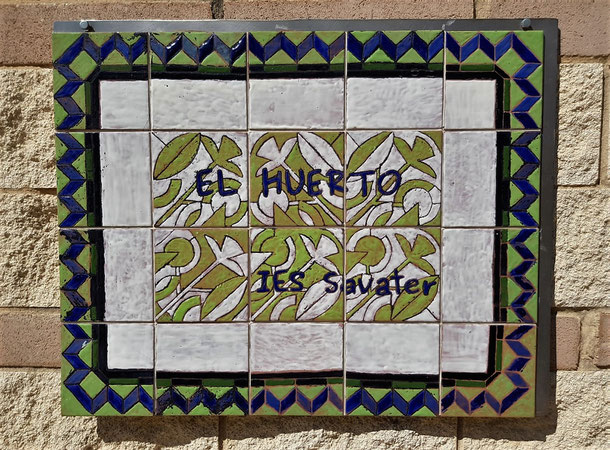 ---
November 20th 2019
A real orchard!
It's been one month since we started sowing... and after much work on digging, watering and loving our plants, the first results can be seen.
We can't wait to taste our first harvest!!
---
October 25th 2019
Freedom (at last)!!
They are not old enough, but they must get used to interacting with adults.
 Today we have set our little companions free, as they were already a bit fed up with the big cage. And it has been something like students hearing the bell ring and seeing the school gate open: AT LAST !!
---
October 25th 2019
Vertical Garden
And this week too, some vegetables have been planted in our vertical garden of La Savateca.
Orientation was taken into account: some plants will need more sunlight; others, more shade. Following our recycling spirit, yogurt cups have been used for seedlings.
Our harvest will include: chard, peas, romaine lettuce or spinach.
âPlanting in the vertical garden â
---
October 19th 2019
Sowing time
Our spirit is positive, so sowing has already begun!
 Lettuce, onion, broccoli and celery will be our future harvest.
---
October 18th 2019
Chemistry in our orchard
As you know, once the garden was cleared up, soil samples were collected for analysis. The results show that the garden soil has a pH 6-7, with changeable nitrate rates (areas with more concentration than others) and more than 20% of clay. That is: clay soil, which stores much water but drains poorly. (If lettuces don't grow, we can always try pottery!!)
Our new students show good progress…
---
October 12th 2019
Our "new students" make good progress...
---
October 5th 2019
Preparing our orchard for sowing...
After a summer that left it dry and full of weed, the soil has been cleared up. Some samples of the land have been collected, to analyse them (a science garden!).
And thanks to Sebas' invaluable help, it is starting to seem a true orchard, not a weed field.
We have also proceeded to setting up the big cage for the little chicks ... (who have eaten Yolanda's seedlings)
---
September 30th 2019
At last, the new academic year has started!!
We have three new school mates, who are still adapting: Kiara, Boo and Nala ...
As they are still little ones, Yolanda (who is in charge of our orchard this year) has taken them home for the weekend, so they are not alone. She says they are soooo polite! (we don't know if they are male or female!!!).
---
News!!!                                          April 12th 2019
Finally our new guests, Calimera, Amara and M.A. are living in their new home in the garden where, for the moment, they will spend Easter.
As you will see in these photos and video, they are in their element.
---
We started to plant our garden 5 years ago, using an area near the sports courts, between them and the playground wall.
It was born as a project to make students study and develop plants, applying the knowledge acquired in school life, and to raise awareness of the responsibility we all have in the conservation and respect for the environment.
Throughout this time, students have become increasingly motivated (the results have even exceeded their expectations sometimes). Some students have tried vegetables for the first time, just because they have grown them ... to their families' surprise and joy. 
This academic year (2018/2019), we have taken a further step and our organic garden has neighbours: three chicks, who were born in an incubator in our school, so we hope to see them become adult hens or roosters very soon.
(And for this kind of rural work, we have registered ourselves in the "Official Register of Agricultural Activities" !!!) 

---